Reasons to Choose Granite Countertops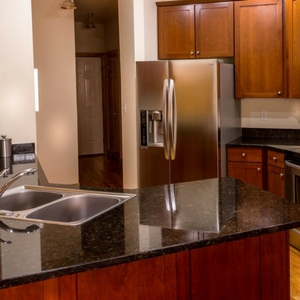 Gordon's Carpet One is your home to a great selection of kitchen countertop options, including granite countertops. Granite continues to be one of the most highly sought-after countertop choices in kitchens and bathrooms. Here are some reasons why:
Appearance: The major reason why homeowners love granite is its appearance. Granite is made entirely from natural materials, so its looks are truly unique. In fact, because no two pieces of granite look exactly alike, your new granite countertop will be one-of-a-kind.
Wear resistance: Granite countertops can be sealed to protect against scratches, scuffs, and stains on the surface. Over time, the surface may need to be resealed depending on use. In addition, granite is exceptionally hard, so it can handle everyday use.
Maintenance: For the most part, granite countertops aren't too difficult to maintain. The surface should be routinely cleaned using warm water and a towel, and it can be cleaned every week or so with a special granite cleaning solution.
Home value: Choosing granite is definitely a decision that increases the value of your home. And, since granite countertops will typically last for a long time, the value is certainly long-term.
Be sure to visit our El Centro, CA showroom to learn even more about granite countertops! We also offer quartz countertops.