150 Years of Masland Carpet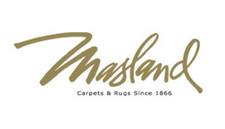 With so many different carpet brands available, the decision is often overwhelming. You need to compare price, performance, comfort, and warranty, among other features. Since there are many features to consider, doesn't it make sense to rely on a brand that has 150 years of experience? Masland has been offering quality carpets since 1866, so it truly is a leading expert in the industry. You can most definitely trust that Masland carpets will perform well and look good for a long time.
How has Masland maintained excellence even after 150 years? It currently has over one million square feet of manufacturing and distribution plants. Here, Masland's carpet experts consistently innovate and stay ahead of the competition with new styles, colors, and patterns. Furthermore, since Masland owns and operates all of these manufacturing and distribution plants, it can ensure that all quality standards are met.
Currently, Masland offers a few different types of broadloom carpet. It, for example, offers both nylon and fine wool carpets. Its nylon carpets are made from synthetic fibers that are stain resistant, easy to clean, and strong enough for most foot traffic. As a result, some Masland nylon carpets are suitable as commercial carpet. Masland's wool carpets are made from 100% wool fibers, so they are natural soft and stain resistant.
Be sure to visit Gordon's Carpet One in El Centro to check out our selection of Masland carpets.
We also offer quality carpets from exclusive brands such as Tigressa and Lees. Learn more about carpet by clicking here.