Waterproof Luxury Vinyl Flooring Options
Believe it or not, but not all luxury vinyl is made to be waterproof. Many luxury vinyl options are made to be water resistant, but there are also options that are entirely waterproof. When it comes to buying a new floor, knowing the difference can make a large impact on your decision. Our experts at Gordon's Carpet One Floor & Home in El Centro can show you both our water resistant and waterproof flooring options and help you make the right choice in flooring for your home.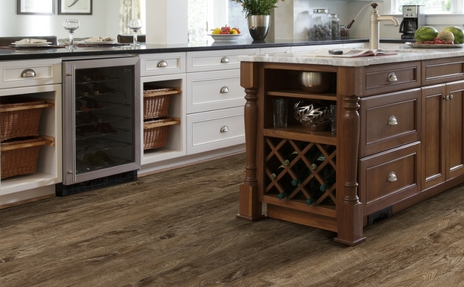 What Makes Luxury Vinyl Waterproof?
We want our customers to know the difference between a water resistant and waterproof floor so they can make an educated decision for their home. No one wants to think their floors can handle moisture when in fact that is not what they are built for. Just about all luxury vinyl floors feature some sort of moisture resistance. Water resistant floors can repel moisture from the surface but the core will eventually soak up any moisture. Water resistant floors are a good option for spaces in your home that you clean often so they are not forgotten.
A waterproof floor repels any type of moisture, protecting both the floor itself as well as your subfloor. A waterproof luxury vinyl floor won't buckle, crack, or warp due to being exposed to moisture. Waterproof flooring is a great choice for families who have pets in their homes. Pets have accidents and you cannot always get to them right away, so waterproof flooring takes away the worry of your floors being destroyed. You should always keep in mind that even if your flooring is waterproof, that does not mean your subfloor is waterproof.
Waterproof luxury vinyl flooring can be installed anywhere in your home including the kitchen, bathrooms, laundry room and even entryways. Waterproof luxury vinyl is so realistic looking that it would also be a good option for a bedroom or living room.
Our Selection
We have waterproof luxury vinyl flooring options such as Invincible H2O and COREtec Plus.